Canned food sees strong growth in Vietnam market.
Consumers are now able to add more choices to their daily menu as the Vietnamese market has recently seen a rapid increase in canned food imports from Thailand, Indonesia and the U.S.
The total consumption of canned food in Vietnam has risen steadily in recent years, with an increase of around 500 tons per year, according to statistics released by market research firms.
A convenient choice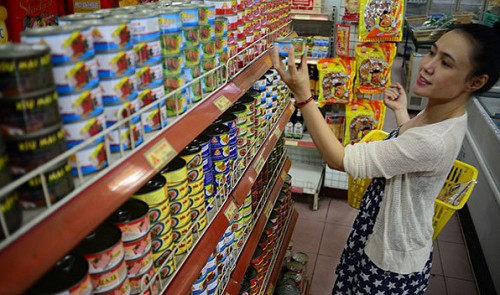 Nguyen Thu Tram, from Ho Chi Minh City's Tan Binh District, spent her weekend shopping at the supermarket to prepare food for her childrens' trip. Besides milk and sausage, Tram also added four cans of beef and tuna.
"They will go to the beach. I'm afraid my children won't eat the food there because it has an unfamiliar taste, so I decided to buy them some canned products that they often eat at home," Tram said while choosing food at District 3's Co.op Mart supermarket.
Tram stated that she often chooses canned beef and fish when she goes to the supermarket thanks to its convenience.
"It doesn't take much time, as we only need to heat it up in the microwave," Tram explained.
Besides local brands such as Tuyen Ky, Vissan, Seapimex and Ha Long, Vietnam has seen an increase in canned food imports from Thailand, Malaysia, the Netherlands and the U.S.
"Before, I only saw canned fish with tomato sauce from Thailand, now they also have canned spicy beef or spicy and sour pork whose price are higher than domestic products, but I still want to try the new flavor," Ngoc Bich, of HCMC's District 7, said.
Canned products imported from Thailand, especially canned fish, are consumed in great quantity, although the average price is 15 percent higher than domestic products, according to retailers.
The market is also seeing price competition in the affordable segment between imported and local brands. An imported can of fish often costs VND13,000 (62 U.S. cents) to VND30,000 ($1.5) per can, while a locally made product costs less than VND25,000 ($1.2) per can.
Nguyen Thi Tuyet, a marketing employee at Big C Pandora supermarket in Tan Binh District, said that besides instant noodles, milk and sausage, canned food sales have shown steady progress.
"Many people choose canned pork, beef, fish, or braised pork for breakfast or midnight snacks," she added.
Rapid increase
A representative from Vissan, one of the leading canned food brands, said that they sell more than 100 types of canned beef, pork, chicken and fish.
Consumers in rural and coastal areas also tend to buy canned food in the hope of having a convenient, fast meal.
In 2010, Vissan's sales accounted for 29 percent of the canned food market, while this number is currently decreasing due to the growing presence of imported brands.
Nguyen Duy Dang, director of Minh Dat Food Company Limited in Ho Chi Minh City, asserted that the Vietnam canned food market is diverse, with a wide range of products on offer including fish, seafood, fruit, vegetables, soup and pasta.
Canned fish products have seen the highest growth with 28 percent of the market share, following by canned vegetables and meat.
Many Vietnamese firms are now focusing on producing canned meat and seafood, as this sector grows consistently and doesn't require advanced production technology, Dang added.
Nguyen Ngoc Tuan, director of an import-export company specializing in frozen food products in Thu Duc District, said that canned food, especially meat and fish, have recently been imported from Thailand, Malaysia and Indonesia.
One of the advantages of local firms is that they understand the local consumers' taste, while foreign brands often produce food with Western flavor. However, this could also be a strength of imported brands, as Vietnamese tend to be more open to Western cuisine, Dang explained.